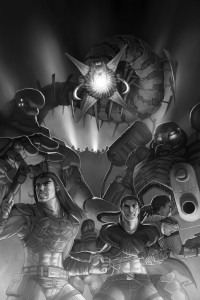 I'm very proud to annouce that the first issue of En-Mercs is now live and online for all to read. Head over to the Graphic.ly website, install their software and search for "En-Mercs" (under the publisher Omni Consumer Comics*). More issues will be uploaded soon.
This is where the story all begins, when three of the main protagonists meet for the first time and unknowingly set off on a journey that will put the fate of humanity in their hands whether they want it or not. You can get a sneak preview of this in the comics section of the site, but it won't have any words. You'll have to fork out a whopping $0.99 for that on Graphic.ly.
On a personal note, this is all very exciting. To see my story transform over the years into something tangible, and now be open to the public is pretty thrilling. I'd really appreciate it if you can let everyone know about the release – the more people who know and buy the comic means I can keep making the series in my spare time. Many thanks in advance!
*if you got the Robocop reference, you rock  and will enjoy this.