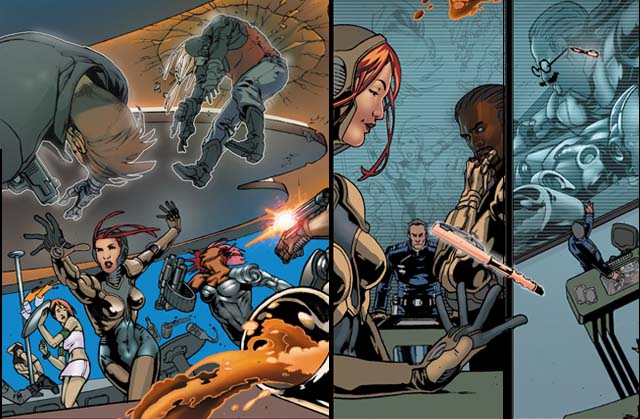 From an early age Cassandra demonstrated the ability to sense and perceive the thoughts of those around her. This somewhat passive skill grew in strength as she aged, to the point that it became too hard to concentrate and ignore these thoughts at the age of 16. Thankfully the newly formed Technically Augmented Counter Terrorism (T.A.C.T.) division of the US government was on hand to take her in and help her master her unique talents.
After years of training, chemical enhancers and dampening technology, Cassandra can now directly manipulate objects with her mind and tune out the interference of people's minds in close proximity.
She is on record for lifting a 500 lbs En-Merc (40% prosthetics) and subsequently throwing him through a solid concrete wall in self-defence, simply with her mind. Her psychic dampening hood can control the strength of her telepathic powers, to help block out the psychic inference from the minds around her that she passively picks up. The trade-off however is, the more she dampens her telepathy, the more she dampens her telekinetic powers. Through her training, Cassandra has learnt to finely balance this and knows how and when to 'dial things up' as the situation requires.
Her passive telepathy makes her the perfect spotter for her T.A.C.T. partner, Lance Boriken. Her ability to spot targets via their minds rather than visually combined with Boriken's multi-spectrometric bionic eye and natural sniping talents means there is literally no place to hide.

Expand the gallery to see see the images in full size
The game was the most watched Super Bowl of all time with an estimated 98.7 million average viewers in the US alone, according to Nielsen data.Go Daddy has been known for its often racy commercials since its Super Elite Black Dougie Hamilton Jersey Bowl Kid Marc Savard Jersey debut in 2005. In the past, the company has submitted an ad, only to have it be immediately rejected by network Elite Black Chris Kelly Jersey censors.This year, two of the company ads were approved by NBC for broadcast, leading Women Marc Savard Jersey Women Bobby Orr Jersey the company to invite the general public to vote on which commercial they wanted to see air during the Men Patrice Bergeron Jersey Super Bowl.Just two days before the Sunday broadcast, Go Daddy decided to purchase NBC final ad slot to run two different commercials for the first time in its five years of Super Bowl commercials.In IndyCar Danica Patrick and her Go Daddy website, along with a few voluptuous women boasting their own in a spoof of baseball steroids Elite Bobby Orr Jersey scandal. The second Elite Tuukka Rask Jersey ad, also featured Patrick taking Authenitc Marc Savard Jersey a shower with another woman.With the Pittsburgh Steelers Elite White Brandon Carlo Jersey having a considerable edge over the Arizona Authenitc White Dougie Hamilton Jersey Cardinals, the last minute ad buy was a significant risk because had the game been a blow out, fewer people might have been watching.gamble paid Authenitc Patrice Bergeron Jersey off in spades, says Go Daddy CEO and founder Bob Parsons. the critics panned our ad, I knew we had a winner. Now, it is official, the people have spoken in a way that really Authenitc Black Marc Savard Jersey counts with their remotes and more importantly, their wallets. with previous Go Daddy Elite White Tuukka Rask Jersey commercials, the critics condemned the ad. AdWeek critic Barb Lippert called the spot than Go Daddy usual low, while two television networks refused to air last month proclaiming it as racy for morning television. and invited viewers to see the continued stories online at Go Daddy website, which led to significant spikes in the Super Bowl Internet traffic, Women Tuukka Rask Jersey as documented by Akamai.
more than sack Titans Elite White Marc Savard Jersey QB Zach Elite Marc Elite Marc Savard Jersey Savard Authenitc Marc Savard Jersey Jersey Mettenberger five times, force three second half turnovers and limit Tennessee to 52 rushing yards. Philadelphia also got off the field, turning Tennessee away 11 times on 14 attempts to convert a third or fourth down, giving the Eagles a rare 6:24 advantage in time of possession in their 43 24 blowout victory. Anderson and Juwan Thompson combined to rush for 200 yards (6.3 yards per carry) while helping the AFC West leaders overcome the Kid Dougie Hamilton Jersey Dolphins' upset bid in Denver 39 36. Jay Cutler: His performance wasn't sexy 17 of 27 for 130 yards and a TD but was good enough to lead the Bears to a second straight victory, largely because Cutler produced his first INT free outing since Oct. 12. Meanwhile, Bucs counterpart Josh McCown, who made a case he was the better fit in Chicago's offense in 2013 as Cutler's backup and injury stand in, coughed the ball up three times for Tampa Bay. Eddie Lacy: Aaron Rodgers isn't the only Packer who's on fire. Lacy, last season's offensive