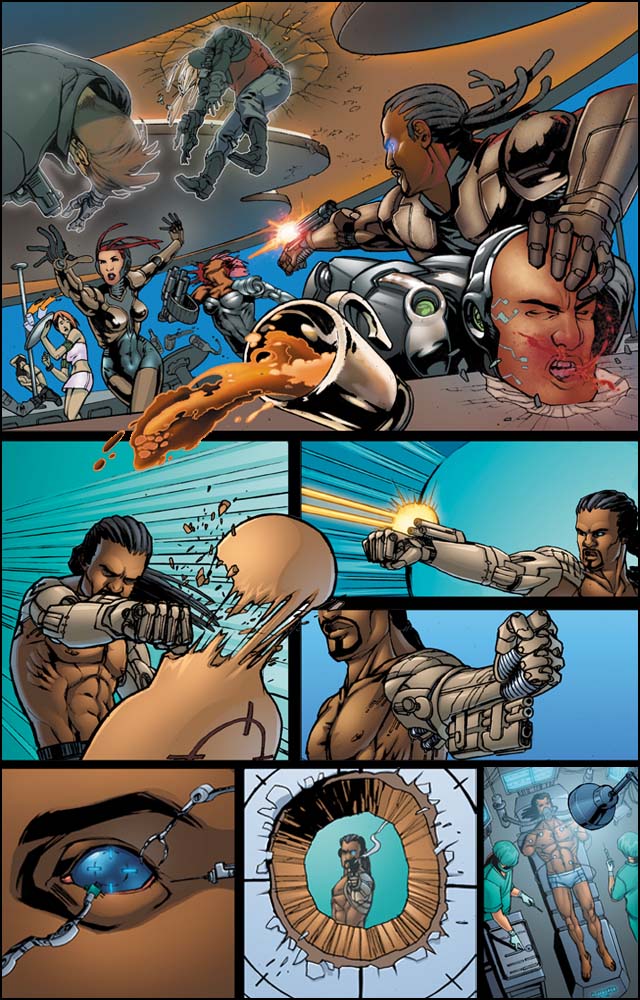 Lance once had a promising career in the Sri Lankan militaries special forces, assigned to stamping out the resurging Tamil Tigers movement. It was sadly cut short after he disobeyed a direct order; whilst saving a hostage's life from an explosion and becoming crippled as a result.
His injuries were too severe and had to have of his arms amputated and his left eye removed in order to save him. This was the only courtesy his government provided before casting him onto the streets for insubordination – a bitter reward for all of his dedication and victories he provided.
Luckily for Lance, his achievements and skill did not go unnoticed, as the US government's Technically Augmented Counter Terrorism (T.A.C.T.) unit offered him a new life serving them. Upon accepting he was provided with top of the line bionic arms and an eye, providing him unparalleled speed, strength and accuracy.
Given a new lease on life, Lance Boriken is now T.A.C.T.'s tip of the spear, with its mission to eliminate and counter any and all Enhanced Mercenary activity threatening the US and free world. His hardware and natural skills are more than a match for any En-Merc, and with his new targets Misato Tachikawa, Michael Wyman and Destrato, being the best in the world he will most certainly need them…
Lucky for him, he will not face them alone. His partner is another of T.A.C.T.'s best; Cassandra Isaacs, a chemically enhanced telepath. Her natural ability to sense the minds of those around her make her the ultimate spotter for Lance when he performs sniper duties – a target might be able to hide their body from sight, but how can they hide their mind?

Expand the gallery to see see the images in full size
Two out of three Authenitc White Tuukka Rask Jersey women the racy ad featuring IndyCar driver Danica Patrick, according to Go Daddy survey of those who watched the the broadcast and online versions of the Super Bowl ad. Seven out of ten men responded likewise.Go Authenitc Gold Chris Kelly Jersey Daddy CEO and Founder Bob Parsons said this year sales statistics are proof that GoDaddy over the top commercials worked well, especially in light of the current economic climate. Elite White Bobby Orr Jersey Super Bowl ad campaign turned out to Youth Jeremy Lauzon Jersey Women Marc Savard Jersey be right on the money for us; in fact, I say it our best work, Parsons said in a statement following the game. only did customers say they Authenitc Patrice Bergeron Jersey liked the ads, more importantly, many voted with their wallets when they signed up as new customers or placed new orders. had consistent market share growth with our Super Bowl ads over the years, but what different this time is how quickly we converted the new customers, Parsons said. the game ended we began seeing sales surge. Elite Bobby Orr Jersey a last minute deal, Go Daddy purchased the final NBC commercial late Friday, gambling on a very risky slot after the final two minute warning. Go Daddy notes that had it not been a close contest, as many had predicted, fewer viewers would have been watching, however, Elite Black Bobby Elite Gold Jeremy Lauzon Youth Dougie Hamilton Jersey Jersey Orr Jersey Arizona comeback just Elite Gold Reilly Smith Jersey prior to the two minute mark Authenitc Dougie Hamilton Jersey sparked attention.Much of Go Daddy success can be attributed Men Patrice Bergeron Jersey to its censor aggravating commercials, which began in 2005 when its Super Bowl ad was censored by the network after running just once. It was a parody of the Janet Jackson malfunction, featuring a scantily clad Daddy Girl testifying before a congressional hearing.Go Daddy market share basically shot up overnight from 16 percent before the commercial controversy to Men Patrice Bergeron Jersey 25 percent. Since that incident, Go Daddy has been following the same technique with great results. The next year campaign boosted market share up to 32 percent. Continuing Authenitc Gold Dougie Hamilton Jersey to gain marketshare, Go Daddy has since enlisted the help of Danica Patrick, 2008 Most Searched Youth Jeremy Lauzon Jersey Athlete on the Internet, as a Daddy Girl Elite Marc Savard Elite Marc Savard Jersey Jersey in its edgy ad campaigns.
EDT March 21, 2015 Will Alabama Amari Cooper be the first wideout drafted?(Photo: Derick E. Hingle, USA TODAY Sports)With the NFL's major free agent business completed, teams recalibrated needs have caused some shifts in our latest mock draft: 1. Tampa Bay Buccaneers Florida State QB Jameis Winston: The franchise desperately needs his help on the field provided he can continue to maintain a low profile Elite Bobby Orr Jersey away from it. 2. Tennessee Titans USC DL Leonard Williams: Arguably the draft's best player. With the Titans addressing their pass rushing deficiencies in free agency, they can focus on targeting premier talent. Any connection to Marcus Mariota here still has the feel of a smokescreen designed to generate bidding for this selection. 3. Jacksonville Jaguars Florida OLB/DE Dante Fowler, Jr.: The Jags actually did a decent job bagging quarterbacks Youth Jeremy Lauzon Jersey in 2014 with 45 sacks. But they could still use a bona fide edge rusher who can relieve pressure on a secondary that must cope with Andrew Luck twice